Another recipe by Hidemi for the White Christmas Challenge: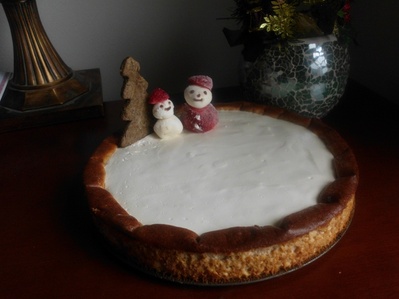 Ingredients:
For Cranberry Cheesecake
16 oz Cream Cheese, at room temperature
1 cup Jellied Cranberry Sauce
1 tablespoon Lemon Juice
3 Eggs, beaten
1 cup Whipping Cream  
2/3 cup Sugar
4 tablespoons Flour
For Frosting
1 cup Sour Cream
1/4 cup Whipping Cream
3 tablespoons Sugar
Topping (optional, your idea!)
1 Strawberry
2 oz Cream Cheese
1 tablespoon Sugar
1/2 teaspoon Melted chocolate
Gingerbread Cookie
Instructions:
Preheat the oven to 350 degrees F. Butter and flour 9 inch cake pan.
In a bowl, beat cream cheese and add beaten eggs, sugar, jellied cranberry sauce, whipping cream and lemon juice. Mix well. Then add flour and mix well until well blended and smooth. (Using blender or mixer is faster and better) Pour the batter into cake pan and bake for 40-45 minutes. Let cool.
In the mean time, make frosting.  In a bowl, combine sour cream, whipping cream and sugar. Mix well. 
When the cake has cooled, pour the frosting onto the center of the cake. Bake at 300 degrees F for 10 minutes. Let cool on wire rack then chill in the refrigerator.
Make snowman and Santa Clause. In a bowl, beat 2 oz of cream cheese and add 1 tablespoon sugar. Mix well. Make sonw man. Take 1/4 of cream cheese and shape it into a ball. Make 2 balls and assembles each to make snow man. Draw eyes, nose and mouth with melted chocolate. Make Santa Clause. Cut the 1/3 top of strawberry off. Shape the rest of cream cheese into a ball and put on the strawberry. Put the cut top of strawberry to cover. Draw eyes, nose and mouth with melted chocolate.
Before served, place tree shaped gingerbread cookie, snowman and Santa Clause on top.
If you still have cranberry sauce you got for Thanksgiving, this would be a great idea to finish your cranberry sauce. Also you could feel more of the Holiday Spirit by eating cranberry cheesecake! If you like to make with another jam, any kind of jam works well too.