Here is Teena's recipe for the Thanksgiving challenge: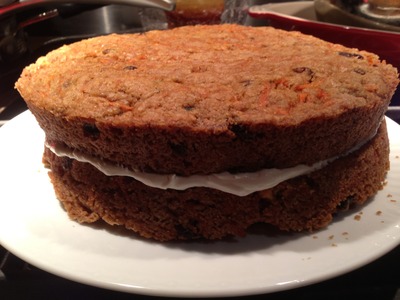 Carrot Cake with Cream Cheese Frosting

Inspired by: Barefoot Contessa by Ina Garten

INGREDIENTS

2 cups sugar
1 1/3 cups vegetable oil
Ener-G egg replacer for 3 eggs (1-1/2 teaspoons Ener-G Egg Replacer plus 2 tablespoons water equals one egg)
2 cups plus 1 tablespoon all-purpose GLUTEN-free flour (I used trader joes brand)
1 teaspoon vanilla extract
2 teaspoons ground cinnamon
2 teaspoons baking soda
1½ teaspoons kosher salt or 1 teaspoon regular morton's salt
1 pound organic carrots, grated
1 cup dried berry blend (from trader joes)
1 cup chopped walnuts
METHOD
Preheat oven to 400 degrees. Grease 2 (9 x 2-inch) and flour round cake pans.
In a bowl, beat the sugar, oil, and egg replacer on medium-high speed for 2 minutes or until light yellow and thickened. Then, stir in the vanilla.
In another bowl, sift together the 2 cups of gluten free flour, cinnamon, salt, and baking soda.  With the mixer on low, slowly add the dry ingredients to the wet ones.
In a medium bowl, toss the carrots, dried berry blend walnuts, and the 1 tablespoon of flour. Stir into the batter with a rubber spatula.
Now, divide the batter between the two pans and smooth the tops. Bake for 10 minutes, lower the heat to 350 degrees, and bake for 30-35 minutes. Check with a toothpick --- it should come out clean. Let cool in the pans for 15 minutes, turn out onto a baking rack, and cool completely.
Place one cake on a flat serving plate, rounded side down. Spread half the frosting on the top only. Place the second cake on top of the first cake, rounded side up and frost just the top.
Enjoy!