Keywords : April Fool, Chocolate Torte

Mary's entry for the April Fool recipe challenge:

No one ever guesses the surprise ingredient in this torte.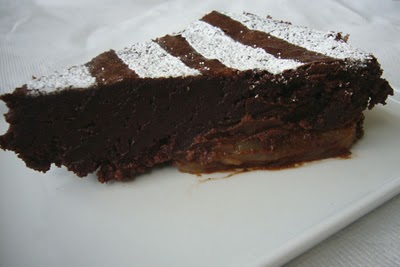 Ingredients:

2 cups black beans, cooked, drained and rinsed

4 ounces unsweetened baking chocolate


2 tablespoons prepared strong coffee

4 ounces butter


3/4 cup sugar

1 tablespoon sugar

3 eggs, separated

1/3 c ground walnuts

1 tablespoon vanilla extract


Preparation:

Heat oven to 350 degrees. Generously butter a 9-inch springform pan. Puree black beans until very smooth; set aside. Melt chocolate and coffee in the top of a double boiler set over boiling water; set aside to cool. In a large bowl, cream butter and 3/4 cup sugar until light and fluffy. Add cooled chocolate, ground walnuts, vanilla and pureed beans and blend well. In a separate bowl beat the egg whites until soft peaks form. Add 1 T sugar and continue beating until stiff peaks form. Using a rubber spatula fold 1/3 of the egg whites into the batter to lighten it; incorporate fully. Gently fold in remaining egg whites until completely blended. Pour batter into pan, smoothing the top and filling the pan from side-to-side. Bake in center of oven for 50 to 60 minutes. The middle will still be soft but will set as it cools. Do not overbake. Cool in the pan on a wire rack for 10 minutes. Run a knife around the edge and remove outside ring of pan. Allow to cool completely.


Dust with confectioner's sugar, unsweetened cocoa powder or garnish with orange peel curls. Serve with sweetened whipped cream. Serves 8-10.