A recipe by Claire for the
Family Challenge
:
This recipe is traditional in the Bourbonnais area, passed to me by my father who learnt it from his mother, etc.
here is the translation from the
French recipe on my blog Délices d'une novice
.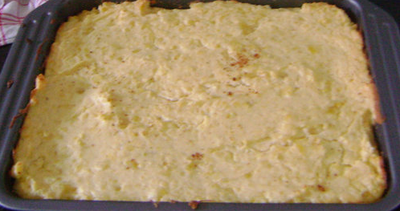 Ingredients (6 people)
10 dried prunes without nut 
Salt, pepper and nutmeg (powder)
Preparation
Make a puree : peel the potatoes, boil them in water and mash them with a forck. Add butter the same way, then the fromage blanc little by little (the quantity depends on the taste, you don't have to put everything). Then add the eggs, salt, pepper and nutmeg.
Put in a dish that goes to the oven, put dried prunes in it. Put some bites of butter on the top.
Bake 35 min at 180° (th 6) in the oven.