Here is Lorraine's entry for the
White Christmas Challenge
: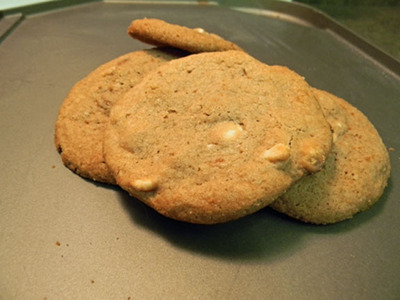 INGREDIENTS
2 1/4 c. Flour
2/3 c. Hot Cocoa Mix
1 tea Baking Soda
1/4 tea Salt
1 c. Butter
1/2 c. Sugar
2/3 c. Brown Sugar
1 tea Vanilla Extract
2 eggs (beaten)
1 c. White Chocolate Chips
1 c. Milk Chocolate Chips
1 c. Chopped Walnuts (optional)
INSTRUCTIONS
In separate bowl mix together flour, Cocoa Mix, Baking Soda, and Salt. Cream together butter and sugars until thoroughly mixed. Add vanilla and eggs. Mix in chocolate chips and walnuts. Refrigerate dough for a minimum of two hours.

Preheat oven to 375 degrees. Roll dough into 1 inch balls and bake for 9-11 minutes.
NOTES
At the beginning of the holiday season I was trying to get into the Christmas spirit. For me that always means baking Christmas cookies for friends and family, but while I was thinking about that the image of drinking Hot Cocoa in front of a roaring fire kept popping into my head. This year Hot Cocoa seemed to become the epitome of Christmas time in my mind, and so my Hot Cocoa cookies were born. As I said I love baking for my loved ones but now that I have developed these my joy has risen ten fold. It always feels amazing to give something homemade and made with love, but these cookies have truly been made from the heart.