Hidemi's 2nd recipe for the White Christmas Challenge: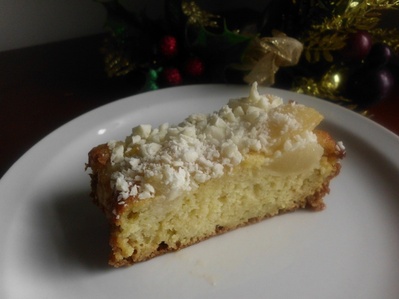 Ingredients:
1 cup All purpose flour, shifted
4 Egg Yolks
4 Egg Whites
2 teaspoons Baking Powder
1 ½ stick Butter
2/3 cup Sugar
1/4 cup Milk
1 canned Pear (15 oz) , cut into small pieces
1/4 cup White Chocolate Chip, chopped finely
Directions:
1.Preheat the oven to 350 degrees F. Butter and flour loaf pan. (9.3"x 5.2"x 2.7")
2.In a bowl, cream butter and add sugar. Mix well until the mixture turns frothy. Add egg yolk one by one. Mix well. Then add milk, Mix well.
3.In another bowl, beat egg whites until stiff peaks are just about to form. Then add to the egg yolks mixture bowl. Mix well. Add flour and baking powder and mix gently. (try not to break meringue) Pour the batter into the cake pan. Put pears on top. Bake for 35-40 minutes.
4.Sprinkle chopped white chocolate on top.