Mary's entry for the White Christmas Challenge: Mrs. Claus' Forgotten Christmas Cookies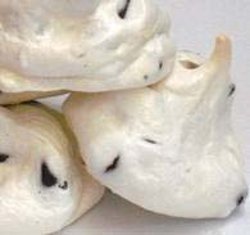 Ingredients:

2 egg whites at room temperature
1/8 teaspoon salt
2/3 cup granulated sugar
1 cup semi-sweet mini chocolate chips
1 cup chopped almonds
Preparation:
Preheat oven to 350 degrees F. Beat egg whites until foamy and add salt. Gradually add sugar and beat until stiff. Fold in chips and nuts. Drop by teaspoon on parchment lined cookie sheet. Place in oven. Turn off oven. Leave overnight or at least 6 hours– Do not open oven door. Store in airtight container. Makes 2 dozen.
Mrs. Claus makes these while Santa is making deliveries. Then when he gets home, the white cookies are ready!